+WELCOME
Welcome to our "Reading Den" kick off your shoes & come on in! Lists, links, authors & news ... & lots of helpful, piffy reviews. So grab a latte' & a comfy chair… we have a lot of books to share.
---
---
---
---
---

  IN MY CD PLAYER…

Just finished – reviews coming soon -
 



    Next from Hachette

  
---
---
What makes us special?
In a word — …Passion.
 Reading and books in general have been a huge part of my life since I was a little girl.  Honestly, I just can't imagine what my life would be like without books. I have great respect for those who share their imaginations and literary creativity with the world…However, my personal admiration plays no role in my opinion of the book itself. - I do not give good reviews, they are earned. My opinions are honest, unbiased and presented in an informative and easy to navigate format. It's my goal to share the magic of books with others in a friendly setting, much like sitting with friends in the den.
---
---
---
Short List of Favorites
Cabinet of Curiousities
White Fire
The Da Vinci Code
Water for Elephants
The Bone Collector
A Nail Through The Heart
Vanished
The Gold Coast


Short List of Favorite Authors

Joseph Finder
Timothy Hallinan
Nelson DeMille
James Patterson
Brad Thor
Brad Meltzer
Michael Connelly
David Baldacci
Preston & Child
Ted Dekker
---
---
---
from the Masterful Mind of Joseph Finder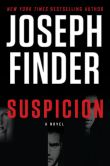 On Fire….
Alex Cross Returns Nov., 2014
Stephen King Returns November 2014
Capture a Copy of …

---

B&N BEST TOP 20 of 2014 …
TIME Magazine's "Most Haunted" List
Where It All Began?
Do you remember when the Lincoln Rhymes series all began? It was way back in 1997…
and now with Skin Collector, Rhyme will be revisited by old foes.
This novel concentrates on the action and the unparalleled skills of our favorite
handicapped investigator as opposed to the domestic situations
of the characters.
Full review click here-
The Lincoln Rhyme Series:
The Bone Collector (1997)
The Coffin Dancer (1998)
The Empty Chair (2000)
The Stone Monkey (2002)
The Vanished Man (2003)
The Twelfth Card (2005)
The Cold Moon (2006)
The Broken Window (2008)
The Burning Wire (2010)
XO (2012) — small appearance
The Kill Room (2013)
The Skin Collector (2014)
---

GET GLUE is NOW TVTAG.com

We will now be reviewing titles thru NETGALLEY.com